Free Online Quran Classes for Sisters Tajweed, Quran, Memorization, Islamic Studies And More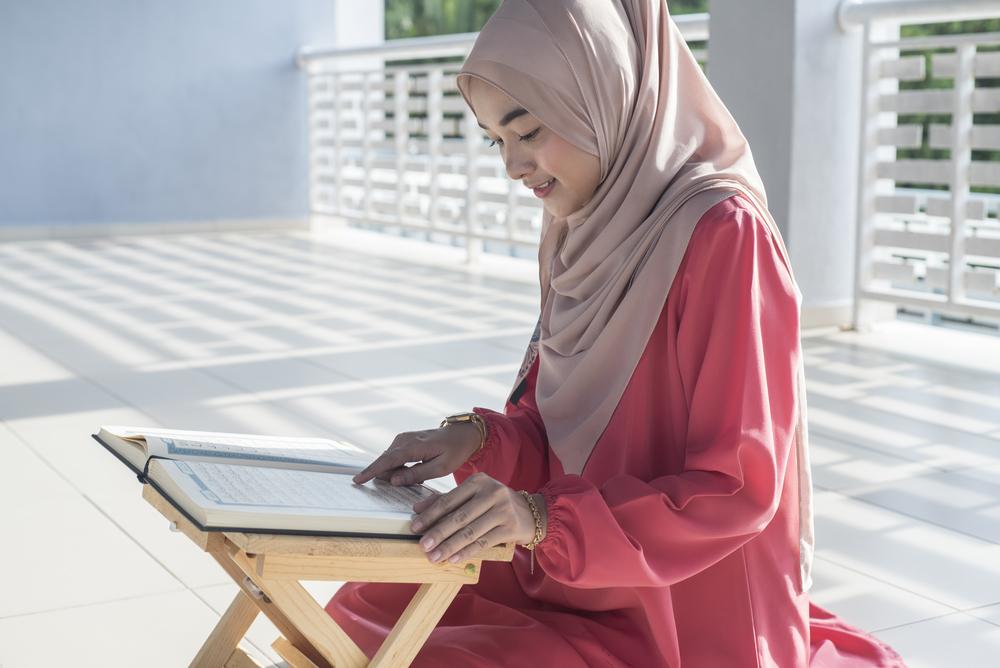 As the Holy Quran is our guidance in life, we ask Allah the Almighty to make the light of it reach everywhere without borders! Thanks to technology, Muslim women all over the world, from all age groups, can now learn to read the Quran or increase their knowledge of it through online and one-on-one lessons.
In Riwaq Al Quran Institute, we offer different free online Quran classes for sisters for two trials given by our experienced female Quran tutors who are Hafiza certified and specialized in Tajweed and Tarteel.
Free Islamic Courses for Sisters
Free Islamic courses for sisters have many features to guide you on your Quran learning journey. With the help of technology, which provides great convenience, especially for women, it offers great opportunities for education to be in the comfort of homes, regardless of time and place.
With the right timing and programs in your learning of the Quran or the Hifdh process, you will have a wealth of knowledge that will accompany you throughout your life and in the hereafter Inshaallah! Get Started Now for Free and enjoy this blessed journey!
Online Quran classes for Ladies / Sisters:
You can attend courses such as Online Quran reciting, Noorani Qaida Courses, Tajweed, Memorization, and Tafseer courses from children's classes to adult female classes. The opportunity to receive training from prestigious Islamic institutes and Al Azhar University-certified female Quran teachers is at Riwaq Al Quran! Join Us Now for Free!
1. Online Quran Tajweed Courses
Don't know how to read the Quran? Or do you want to improve your reading? Generally, it might be challenging for a person who does not speak Arabic to quickly grasp the knowledge of Qiraat, and Tajweed. But, its reward from Allah SWT is definitely worth it. Thankfully, our online female tutors, who explain detailed topics effectively by simplifying them all through your Special Quran Recitation Course, come to your aid!
2. Online Tafseer Courses
It goes without saying that understanding our book, the Holy Quran, is of absolute importance. The correct interpretation of experts in this field will be very productive with female Islamic teachers who only speak native Arabic. Here, Online Tafseer Course is the best choice for you.
3. Online Quran Memorization Classes
Our experienced Female Quran Tutors, who have raised countless students who memorized the Quran, are here for our sisters and kids. Whether you aim to become a Hafiz or just want to memorize some Surahs from the Quran, InshaAllah your female Quran teacher online will see your potential and guide you on your journey to Hifdh giving you regular feedback during our Online Quran Memorization Course.
4. Online Arabic Courses
Do you want to be able to speak, read and write Arabic? It is now possible with interactive and effective language learning techniques. You will learn the language of the Quran in the best way with our Special Online Arabic Classes and native female Arabic speaker tutors.
5. Noorani Qaida Courses
Whether it is for kids or even adults, Our Noorani Qaida Online Course aims to correct the pronunciation of letters and application of Tajweed rules for beginners.
6. Ten Qirat Courses
Do you want to learn the Quran with different intonations and reading styles? Thanks to technology, you can now Online Qirat Course from our experienced and competent teachers, read the Quran with different pronunciation formats, and distinguish these Qirats when you hear them!
Advantages of Online Quran Learning
Undoubtedly, one of the most significant advantages of online Quran learning is that it knows no spatial boundaries. This means that wherever you are in the world, it gives you the opportunity to take lessons from experienced tutors whom you may not have the opportunity to meet face to face and take lessons.
Some Advantages of Online Quran Lessons for Sisters:
You determine the time and place of the free online Quran classes for sisters, as well as the study plan.
Being able to choose the tutor you will take the course with, according to your own criteria.
The lessons are punctual, there are no disruptions or delays.
Opportunity to take online Quran classes for ladies from female tutors with international communication skills.
Opportunities to take lessons from female Hafiza certified female tutors graduated from prestigious universities.
Being able to join free Islamic classes for sisters online.
Best Online Quran Classes Free
Riwaq Al Quran offers online free Quran courses to sisters who want to learn the Quran with their female teachers in the comfort of their homes. The most important feature that makes our courses one of the best online Quran training centers is our qualified teachers and the two free online Quran classes for sisters.
About Our Female Teachers:
Most of them are Hafiza and experts in the fields of Tajweed and Tarteel
Graduated from prestigious Islamic universities such as

Al-Azhar

university.
Have satisfactory communication skills.
They got Ijazah in Quran.
Offer a choice of courses in Arabic, English, and Urdu.
They can simply transfer knowledge through their experience and different training techniques.
Importance of Learning the Holy Quran
The Prophet (PBUH) said, "The best among you (Muslims) are those who learn the Qur'an and teach it." (Sahih al-Bukhari) In this hadith, our Prophet, who addressed the entire Ummah, pointed out the importance of learning and teaching the Qur'an. The fact that there are those who learn and teach the Qur'an as the best of people after the prophets is due to the fact that the Qur'an is the word of Allah itself, the most beautiful of words.
Also In addition to the good news of how Muslims who know the entire Quran will be rewarded by Allah in the following hadith, Muslims want to live their lives in accordance with the moral values ​​of the Quran, and to imprint the Quran in their memories and also in their hearts for the sake of Allah.
It was narrated by Ali bin Abi Talib that the Messenger of Allah (PBUH) said: "Whoever recites the Quran and memorizes it, making lawful what it makes lawful, and unlawful what it makes unlawful, Allah will admit him to Paradise due to it, and grant him intercession for ten of his family members who were to be consigned to the Fire." (Jami` at-Tirmidhi)
While some learn the Quran by participating in the courses, some progress at home in line with their own efforts and techniques. Others prefer the online course method with experienced teachers with communication techniques that are now common in our age.
Free Online Quran Classes for Sisters
In Riwaq Al Quran, the most experienced female quran tutors are selected in their fields to provide our Muslim sisters with the highest quality education process. In this way, harmony between the tutor and the course attendee is achieved in our courses that appeal to all age groups, and an increase in efficiency is achieved in the lessons.
So, which courses do free online Quran classes for sisters include?
How Is the Content of Our Courses Determined?
Learning the Quran means, first of all, learning to read it according to its rules. This means reading the Quran in the best way, from Tajweed rules to intonation. Although it might sound challenging, it is totally achievable. In order to speed up the process and do it effectively, most Muslims prefer to learn and apply this important task from an expert.
The content of our courses ranges from beginners to hifdh course attendees. Regardless of the level, it is aimed for the student to read the Quran in the best way, and a regular and disciplined program is created for this purpose.
Welcome to Our Family!
If you have embarked on an adventure in line with this goal, join our free online courses! In this process, our experienced female tutors are ready to accompany you on this blessed journey! We lift the distances with our motivated team! Join thousands of people participating in online Quran courses and be a part of our family wherever you are in the world.
Get Started Now for Free with the Best Online Female Quran Teachers:
All you have to do is contact us! It will be our pleasure to guide you through this blessed learning process.
May Allah illuminate your path in your Quran journey…