Online Qirat Course: Learn The Ten Qirat In The Best Online Course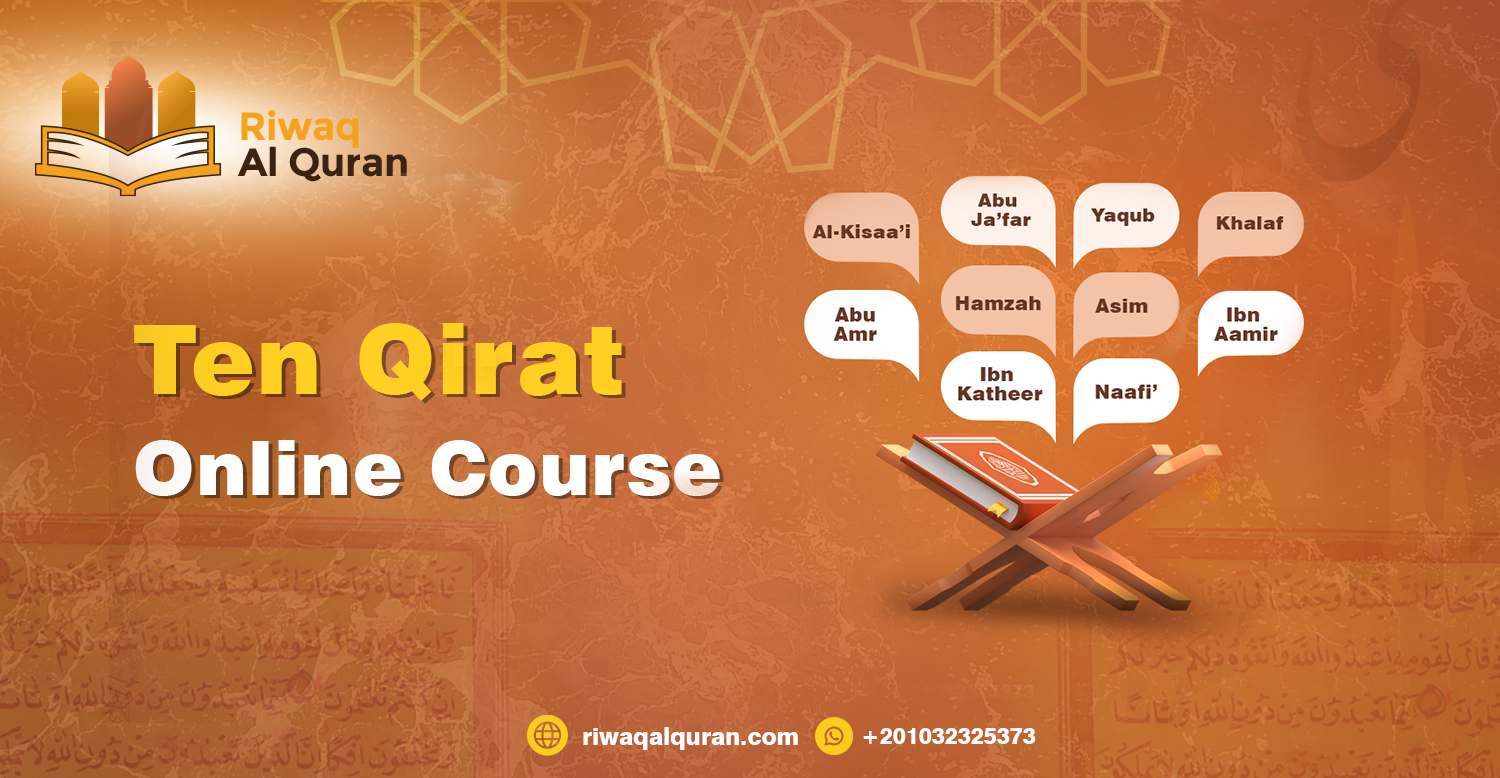 Learn Ten Qirat Online Course
Have you ever listened to someone recite the Quran in a way different from yours and wished you could do the same? Do you wish to learn the Quran in a specific mode of recitation but you not find a local Quran tutor who excelled in this mode of recitation?
Learn Ten Qirat Online Course is designed for those who seek to learn a certain Quran Qira'ah or learn more than one of the Ten Qirat.
How many Qirat are there in Quran?
There are ten Qirats.
Ten Qirats do not have different voices or styles, but their pronunciations, letters, and Harakat are slightly different. It's kind of like comparing two different Quran books and finding differences between them. We must go back to the time of the Prophet Muhammad (PBUH) and the history of Islam to understand how Qirat is taught. During the time of Prophet Muhammad (PBUH), most people were illiterate, and it was common for tribes to have their dialect.
The spelling and pronunciation are different. At that time, there were many dialects, such as dialects for tribes like the Holy Prophet (PBUH) or Yaman, for example. Differences in dialects aren't significant, but they don't alter the meaning.
1. Naafi' Al-Madani
Qari Muhammad (R.A.) and Imam Ahmad ibn Hanbal are two famous Qaaris who preserved this style.
2. Ibn Katheer Al-Makki
Qaari Imam Shafi is possibly the most notable Qaari who recites Quran in this manner.
3. Abu Amr Al-Basri
There are two Qaaris that have preserved this Qirat style, Ad-Doori and As-Soosi.
4. Ibn Aamir Ash-Shami
Two of the best Qaari recite the Quran in this manner are Heishaam and Ibn Zakwan.
5. Asim al-Kufi
Imam Abu Hanifa (R.A) recited the Quran in this manner.
6. Hamzah Al-Kufi
These are two important preservers of the Qirat style: Khalaf and Khallad.
7. Al-Kisaa'i
The two Qaaris who used to recite the Quran this way were Al-Layth and Ad-Doori.
8. Abu Ja'far Al-Madanee
Sulayman and Isa are the guardians of this Qirat style.
9. Yaqub ibn Al-Basri
Ruways and Rooh preserved this Qirat style.
10. Khalaf
Ishaq and Idris preserved this Qirat style.
Why Choose Riwaq AlQuran for Qirat Course
Teaching is becoming more efficient thanks to technology. An important part of Quran learning is the interaction between student and teacher. High-qualified Quran teachers who speak English and Arabic are on hand to provide you with a high-quality Quran education. The teachers are hafiz e Quran and they can recite Quran with an Arabic accent.
As a member of our online academy, you will have the potential to take part in home-based education & Quran teaching. Hence, you can learn the Qur'an from the comfort of your home. At Riwaq AlQuran, we offer a wide range of courses, and if you are wondering how to learn Arabic Qirat, you are in the right place. It doesn't matter what age you are or how old you are, these courses are open to everyone. The Holy Quran can be studied online from anywhere in the world.
We at Riwaq AlQuran have Quran teachers who will help you improve your recitation of the Holy Quran. You can get guidance and assistance to select and start Qirat classes online.
Why Should you Take a Qirat Course?
10 Qirats are based on differences in pronunciations of letters and harkats throughout the Quran. However, although the style is different, the significance of the text remains the same.
At the time of our Prophet Muhammad (PBUH), the Ten Qira'at evolved from different schools of thought and dialects of various tribes. The Prophet listened to a variety of Qirat styles and approved them. As Hazrat Muhammad (PBUH) requested, angel Hazrat Jibraeel (A.S.) taught him seven different reciting styles.
For anyone wondering how to learn Qirat of Quran, our certified Quran scholars will help you to improve your Quran recitation skills through our "Ten Qira'at" classes for both kids and adults. You will be able to read the Quran properly and in many ways.
Furthermore, the course will promote Quran Memorization by requiring the students to read and recite Quranic verses a great number of times and with a variety of methods.
Our Quran tutors will help you or your kids to achieve success in Qirats in a short amount of time. This will depend on the age and background, as well as the ability to absorb provided information.

Course Features
Here are some features of our Qirat lessons to teach you Qirat recitation.
1. Certified Tutors
We handpick qualified teachers for our students. Each teacher is not just qualified but experienced as well.
2. Online one-on-one sessions
Riwaq AlQuran offers one-on-one interactive video sessions to help you and your family get the best learning experience possible.
3. Free Trial
Our course trial allows you to evaluate the tutors and course content for free so that you can decide whether you want to continue taking the courses.
4. Completion Certificates
Following the completion of the course, the students will get a certificate stating that the course was successful.
5. Around The Clock Online Classes (24/7)
During the courses, students are scheduled according to their convenience so that they can easily fit learning online Quran classes into their daily lives without any hassle.
6. Excellent course materials
We thoroughly select all teaching materials so you will achieve the best results. All materials are selected by Arab speakers and Quran scholars.
What will you learn in this course?
A literary brief on the science of Qirat (meaning, subject, people).
The students will learn Qirat Quran with tajweed. They can choose among the following ten Qirat:
Qirat Naafi' Al-Madani (Madinah)
Qirat Ibn Katheer Al-Makki (Makkah)
Qirat Abu Amr Al-Basri (Basra)
Qirat Ibn Aamir Ash-Shami (Syria)
Qirat Asim al-Kufi (Kufa)
Qirat Hamzah Al-Kufi (Kufa)
Qirat Al-Kisaa'i (Kufa)
Qirat Abu Ja'far Al-Madanee (Madinah)
Qirat Yaqub ibn Al-Basri (Basra)
Qirat Khalaf Al-Bazzar (Baghdad)