Best Female Quran Teacher Online
The desire to learn the Quran from expert tutors, which goes beyond the borders for Muslim women all over the world, is now possible for women to join online Quran courses so that they can learn the Quran from female Quran teachers with their own schedule, from the comfort of their homes!
Our Tajweed and Tarteel certified female Quran teachers offer you the opportunity to take lessons with their best communication and language skills, wherever you are in the world. All sisters who want to enroll in these classes can attend free trial lessons, meet the instructors they will train, and create their lesson programs. Get Started for free!
Qualities of Our Female Quran Teachers
Our versatile and experienced online female Quran teachers are ready to offer you a quality and permanent education process and special online Quran classes for ladies through different teaching methods like:
Teaching information in the simplest and most effective way.
Having strong communication skills in languages ​​such as Arabic, English, and Urdu.
Systematic and disciplined course follow-ups.
Certified Tajweed & Tarteel knowledge.
Graduates from prestigious Islamic institutes and Institutions such as Al Azhar University.
Being Hafiz female Islamic tutors who have years of experience with online education.
Online Female Quran Teacher Near Me
From now on, meeting with an online tutor from another part of the world is now a single click away! If you're looking for an online Tutor near you, stop! Quality education can only be achieved with quality communication.
At Riwaq Al Quran, you are closer than ever to expert female Quran tutors with the best communication skills. Whether you are at home, in the car, or at school, you can connect to our tutors with a high degree of punctuality and work discipline. In addition, you can take lessons at the times you schedule and create your own study plan.
Which Courses Are Offered by Female Quran Teachers?
You can attend courses such as Online Quran reciting, Noorani Qaida Courses, Tajweed, Memorization, and Tafseer courses from children's classes to adult female classes. The opportunity to receive training from prestigious Islamic institutes and Al Azhar University certified female Quran teachers is at Riwaq Al Quran! Join Us Now for Free!
Online Quran Reciting Courses
Don't know how to read the Quran? Or do you want to improve your reading? Generally, it might be challenging for a person who does not speak Arabic to quickly grasp the knowledge of Qiraat, and Tajweed. But, its reward from Allah SWT is definitely worth it. Thankfully, our online female tutors, who explain detailed topics effectively by simplifying them all through your Special Quran Recitation Course, come to your aid!
Online Tafseer Courses
It goes without saying that understanding our book, the Holy Quran, is of absolute importance. The correct interpretation of experts in this field will be very productive with female Islamic teachers who only speak native Arabic. Here, Online Tafseer Course is the best choice for you.
Online Quran Memorization Classes
Our experienced Female Quran Tutors, who have raised countless students who memorized the Quran, are here for our sisters and kids. Whether you aim to become a Hafiz or just want to memorize some Surahs from the Quran, InshaAllah your female Quran teacher online will see your potential and guide you on your journey to Hifdh giving you regular feedback during our Online Quran Memorization Course.
Online Arabic Courses
Do you want to be able to speak, read and write Arabic? It is now possible with interactive and effective language learning techniques. You will learn the language of the Quran in the best way with our Special Online Arabic Classes and native female Arabic speaker tutors.
Noorani Qaida Courses
Whether it is for kids or even adults, Our Noorani Qaida Online Course aims to correct the pronunciation of letters and application of Tajweed rules for beginners.
Ten Qirat Courses
Do you want to learn the Quran with different intonations and reading styles? Thanks to technology, you can now Online Qirat Course from our experienced and competent teachers, read the Quran with different pronunciation formats, and distinguish these Qirats when you hear them!
Let Us Be Your Guide on Your Quran Path!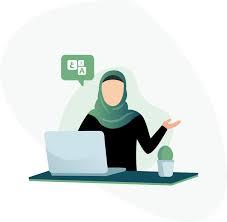 Allah sent us the Quran as a complete code of life. The Messenger of Allah said: "Whoever recites a letter from Allah's Book, then he receives the reward from it, and the reward of ten the like of it…" (Jami Tirmidhi)
In order for you to learn the Quran in the best way but you cannot find a skilled female Quran tutor at home, you can start your Quran learning adventure with our special programs and tutors at Riwaq Al Quran! All you need to do is to contact us to get information about the free trial lessons and courses.
Enroll to start your Free Trials now!