7 Tactics on How to Make Quran for Kids Easy and Enjoyable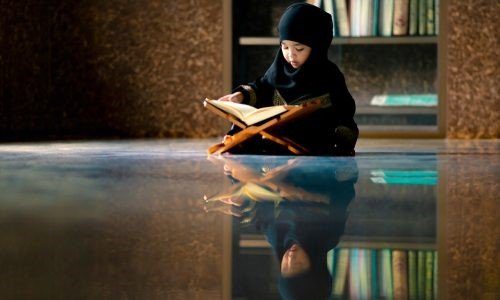 Prophet Muhammad has taught the Ummah that we are all guardians and each one of us is responsible for their words. Parents, for example, are considered the guardian of their families and are responsible of them. Hence, teaching Quran for kids and instilling the love of it in their hearts can be the greatest present you will ever give them as it is a duty to look out for our children and make sure that they do what is pleasing to Allah.
The following tactics would help you a lot during the journey of your children's Quran learning:
1- Share the inspiring stories in Quran with them:
It goes without saying that stories play an important role in various educational and didactic areas. Sharing Quranic stories with your children is of great importance as it instills the love of it in their hearts. Teaching kids Quran through stories also carries different aims such as to cause thinking or serve as a good example for them to follow. You can easily achieve this by using storybooks before bedtime or Islamic cartoon videos that will increase their understanding of Quran.
2- Find a way to make learning Quran for children fun:
Children generally love to play so much and they tend to cling to the things that are engaging and enjoyable. The above-mentioned reasons clearly show how crucial it is to make teaching Quran for kids interactive and fun. You will find your children more likely to follow along and retain what they learn.
3- Set yourself a practical example:
It is said that actions speak louder than words. If you want to see your children reading Quran regularly with hearts attached to Allah, you should yourself recite it regularly and be attached to Allah and his words. It is way more effective to set a good example for your children to follow instead of just preaching through words.
4- Praise their efforts when you see your kids reading Quran:
One of the golden pieces of advice that can make your children perform better is to always support them in their pursuit. It can catapult their progress forward as children thrive for attention and a word of encouragement can achieve many positive results during the journey of teaching Quran for kids.
5- Keep it easy and simple:
Never force your children to spend a lot of time reading and memorizing Quran as such an attitude can entirely demotivate your child. What really matters is to keep your kids focused and productive at their comfort level. Just be patient and always remind yourself that the journey of a thousand miles begins with a single step!
6- Help your kids stay in the flow:
One easy way to learn Quran effectively to allot a specific time every day just for recitation and Tajweed for kids to bring the Quran close to their heart and develop a more meaningful relationship with Allah SWT. Just keep in mind that a few minutes of happy learning can be much more effective than whole hours of forcing your children to study against their will.
7- Repetition is the mother of all learning!
No doubt that repetition is one of the most fruitful key learning aids in teaching kids the Quran. Try to recite the short Surahs repeatedly in front of them and play Quran softly in the home as much as you can in order to make it familiar to them. Day by day, you will notice a huge difference in their level.
Riwaq Al Quran Institute is a pioneer in teaching Quran for kids as we offer you an online Quran course specially designed for kids. In this course, our skilled and well-trained teachers use effective methods and provide an exciting atmosphere in order to nurture the love for the Quran in the kids' hearts.
Here is a list of our online Quran classes for kids:
Choose What Suits Your Kid Best and Contact Us Now!
And if you are a Muslim parent and want to know how to learn Quran in an easy way, here are 8 Tips Will Help to Learn to Read Quran for Adults.