Online Islamic Courses for Non Arab
Are you a non-Arab? Do you want to get Islamic education from Arab teachers? You are at the right address! We are fulfilling the dream of our Muslim sisters and brothers from all over the world! Now you can get online Islamic courses for non Arabs easily on our online platform! Riwaq Al Quran brings quality and experience to the comfort of your home with affordable fees! Click now, get in touch and enjoy your Islamic education journey with Arab teachers!
We all know that Islamic education is much more than an accumulation of knowledge. In addition to filling the mind, the heart also gets its share from this blessed process. Muslims from all over the world want to learn from scholars who grew up in Arab countries where divine winds blow.
No matter where you are in the world, our Arab teachers, blended with Arabic culture, are ready to teach you with the best prepared course contents to make you feel this matchless breeze!
Quran for Non Arabic Speakers
Our Quran for Arabic speakers course is specially designed for our Muslim brothers and sisters who want to learn to read the Quran from all over the world. Quran courses are now in service thanks to online platforms that eliminate distances.
Riwaq Al Quran is at your service as one of the most experienced institutions that organize Islamic sciences and Quran courses for non-Arab! These courses are divided into 6 branches:
After the course attendee communicates with us, it is decided which course to follow and which course would be more appropriate for the participant, and a suitable program is created. Let's take a look at the course contents…
Arabic and Islamic Courses
We take you on a pleasant journey by transferring the vocabulary and grammar elements from professional hands, starting from the very basics, not only in language learning but also in our lessons blended with Arabic and Islamic culture!
Undoubtedly, the most privileged aspect of our online Islamic courses for non Arab is that you will take your Arabic lessons from Native Arab tutors. Thanks to the weekly and monthly reports, we follow your progress closely! Providing the best quality with affordable fees, Riwaq Al Quran is among the most preferred online Islamic platforms with an assertive position in Islamic education.
Online Islamic Courses for Non Arabs:
Islamic courses for adults include basic Islamic sciences such as Quran, Tafseer, Fiqh, and Arabic. If you do not know where to start Islamic education, you are at the right address! Riwaq Al- Azhar offers you the following opportunities:
Separated online Islamic classes for ladies/ brothers.
Opportunity to choose a male or a female teacher.
Ease of creating your own schedule.
Taking lessons from Ijazah holders & Native Arab scholars.
Online Islamic courses certificates at the end of the courses.
Versatile course content and regular follow-up.
Weekly & monthly reports. 
Online Islamic Studies Program
Most Muslims strive from an early age to learn to read the Quran from their parents, boarding/day Quran courses, or Islamic institutes. These efforts are primarily based on the fact that it is Fardh to recite the Quran in certain quantities in prayer and that it is sunnah to recite the Quran outside of prayer. Again, with the encouragement of our Prophet (PBUH), one of the primary goals of all Muslims in their lives is to learn Islamic sciences and the Quran.
Thankfully, It is possible to enroll in our online Islamic education such as Arabic, Quran, Tafseer, and Fiqh on our online platform that allows you to get Islamic studies from Arab teachers! Our online Islamic courses for non-Arab, are taught by experienced and certified scholars who can speak English at a satisfactory level!
Online Islamic Courses for Beginners
Islamic studies for beginners is an education based on the principles of Islamic worship. Following this, Quran education comes and you will go through a learning process that will motivate you to reinforce your desire to learn and your commitment to Islam.
Where Can I Learn Islam Online?
The Muslim world aims to get their Islamic education by going to Arab countries. We organize the online Islamic studies program from Egypt, which has a leading place in Islamic education, for our Muslim brothers and sisters who cannot fulfill their dreams due to their job, family, or financial conditions!
Which Country Is Best for Islamic Studies?
In Egypt, which is among the top five countries where Islamic education is given according to statistics, the leading position of Egyptian Islamic scholars in Islamic education, especially Qirat, has been accepted by the Muslim world.
Most Muslims desire to receive a qualified education from scholars who have graduated from prestigious universities such as Al-Azhar University which accepts students from all over the world and break new ground in Islamic education.
Welcome to Our Family!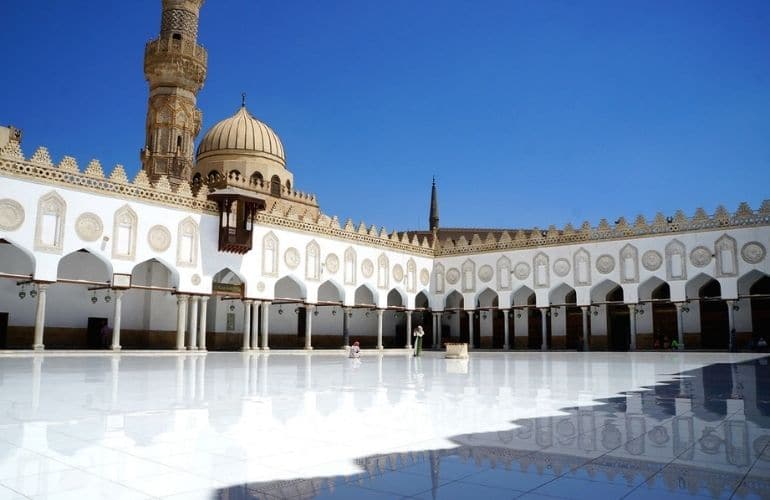 With the Riwaq Al Quran online Islamic studies program, you can start two classes free of charge with our professors who are graduates of these prestigious universities and with whom you can communicate in the most satisfactory way thanks to their English. Join Us Now for Free and properly learn Islam online!